How to get to "Villa El Morisco" from Málaga airport.
We recommend navigation with a smartphone and Google Maps:
Call up the Google Maps APP directly and enter the term in the "Search here" field
"Casa el Morisco" a.
You will be directed to CASA EL MORISCO.
GPS data for navigation devices: 36°43'24.9″N 4°12'12.0″W
Leaving the airport, take the highway A7/E15, direction Motril/Almería
After about 35 km, take exit No 258 on to the "carretera nacional" N-340.
Keep to the left lane, direction Benajarafe.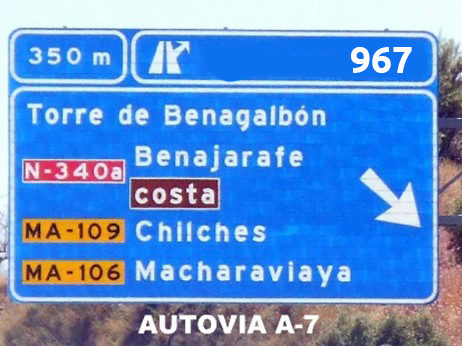 Bear left at the roundabout,  following the N-340  (Note that the sea is to your right!)

Keep straight
for about 2,3 km, until
you see a sign "Benajarafe Alto" where you now turn left, with
the hotel "Esperanza" to your right.

In just 50m,  turn right in the direction ¨Benajarafe Alto¨

Follow the street uphill for about 700 m,  until you see a sign to the left , indicating "Villa El Morisco"

(in addition to  Casa & Finca El Morisco)

Continue down the track for about 500 m, until you see an arched entrance "CASA EL MORISCO"
Within approx 500 mtrs, you`ll see an arrow, indication ¨Villa el Morisco¨. Bear right.
The duration of your trip from the airport to the Villa el Morisco should be about 35 minutes (40 km)
Have a good trip and arrive relaxed!
your Morisco-Team